Wendy Williams pulled a Stacey Dash; TV host says she against NAACP and HBCU's!!!
Wendy Williams has finally reached a level of ignorance that grants her a place at the coon table with the likes of Stacey Dash and Raven Symone!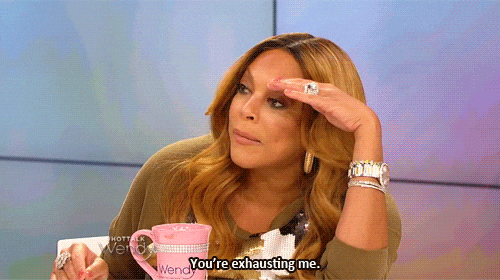 The TV show host/former radio DJ brought up the amazing speech Jesse Williams gave at the BET awards and decided to throw shade at the actor, the NAACP and Historical Black Colleges! For soem reason Wendy thinks people should be offended by the fact that there are Universities for Blacks and groups like the NAACP, which focuses mainly on Blacks/African Americans.
"On the other hand, I would be really offended if there was a school that was known as a 'historically white college.' We have historically black colleges. What if there was the National Organization for White People, only? There's the NAACP."
Now if Wendy was as smart as she was opinionated, she or her team of producers and writers would have done a little research before speaking out on Jesse Williams' BET speech, the NAACP or  HBCU's because there is a reason why these things exist and why Jesse said what he said.
There was a time when Blacks weren't permitted to go to the same schools as Whites, so those schools had to be created in order for us to obtain an education, degrees, etc. The fact that there aren't any Universities that blatantly call themselves "Historically White Colleges" is because THEY ALREADY EXIST." They're the same schools that many Blacks and other minorities weren't allowed to attend because they weren't White.
The same goes for the NAACP. When you have issues in a country that affect a certain group of people, and those issues are never acknowledge, discussed or rectified, then a group needs to be created to do so.
I seriously can't tell if Wendy is just dumb as fuck or if she's being paid lots of money to talk about shit like this and stroke White people's ego and wipe away their tears of guilt, but either way, no one's here for her bullshit. It's depressing really, because I doubt she'll learn from this; she feeds off of attention for ratings purposes. However, now that she's losing sponsorship deals from companies like Chevrolet due to her anti-HBCU/NAACP statements, maybe she'll at least learn to do a bit more research before she opens her mouth.
In the meantime, watch Roland Martin drag Wendy Williams for her dumb ass remarks with more facts about the NAACP and HBCU's below!