The Beyhive goes for Kid Rock's edges after he slanders their Queen, Beyonce!
Kid Rock either doesn't care enough or has been living in isolation for a while if he thought he was going to slander Beyonce's name and not have to deal with the wrath of her fans, The Beyhive.
In a recent interview with Rolling Stone Magazine, Rock said he's "flabbergasted" by Beyonce's huge popularity and mainstream appeal in the music industry.
"Beyoncé, to me, doesn't have a fucking 'Purple Rain,' but she's the biggest thing on Earth. How can you be that big without at least one 'Sweet Home Alabama' or 'Old Time Rock & Roll'? People are like, 'Beyoncé's hot. Got a nice fucking ass.' I'm like, 'Cool, I like skinny white chicks with big tits.' Doesn't really fucking do much for me."
The Beyhive didn't take Kid Rock's opinions about their Queen too kindly, and decided the best way to get back at Rock was to harass him on social media; especially on Instagram.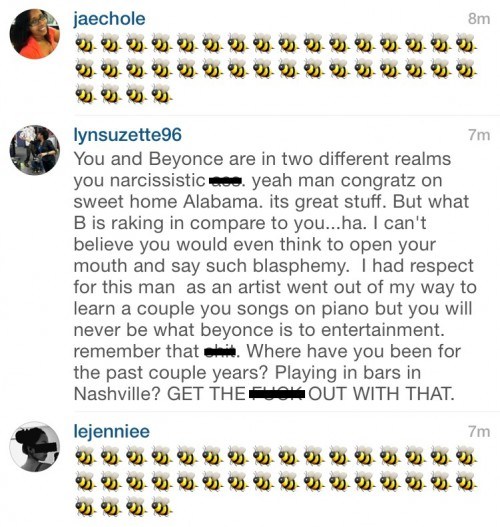 Will this get Kid Rock to change his opinion about Beyonce?
Pfft, no. If anything this will probably make him hate her (and her fans) even more.
Does it make sense for fans to do shit like this? Hell no. Don't get me wrong, all of this is BEYOND entertaining, but I'm sure Beyonce couldn't care less about what Kid Rock has to say regarding her career or the women he finds attractive.
Bitch still gettin' money either way!