I really thought Kanye was going to behave in 2015, but then the Grammys happened. Celebs react!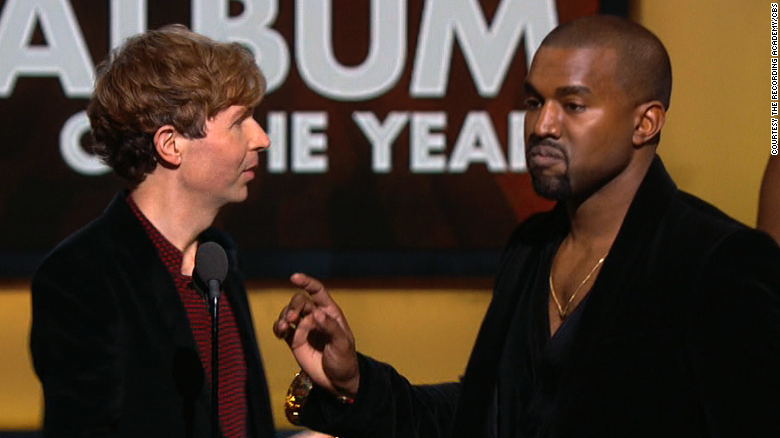 Ye was off to a good start this New Year; avoiding altercations with paparazzi, keeping his rants to a minimum and staying focused on his craft with music and fashion. Although the Hip Hop mega star had a few missteps along the way (the most recent incident involved a "friend" in the fashion industry), overall he's been on his best behavior.

Until the Grammys happened.
At this year's Grammy Awards event, Kanye decided that it would be a good idea to interrupt Beck's Album of The Year Award winning moment by walking up the stairs to the mic, and then turning back around to his seat before he could make a statement.
A confused audience, and an even more bewildered and disappointed Beck (he actually wanted West to say something), thought that Ye was only joking with his stunt. Especially since Kanye made peace with Taylor Swift that same night for doing the same exact thing to her years ago. Apparently he was not joking.
Ye explained in an interview after the award show how he really felt about Beck's win for Album of the Year.

Kanye is entitled to his opinion (and I'm sure he's aware of that fact), but Ye obviously fucked up when he tried to say that Beck doesn't respect artistry- the man plays numerous instruments and has written, produced, and arranged all of his music.
To be honest Ye was wrong for a lot of things that night, and a lot of celebs felt the same way about his behavior and the shade he threw at Beck.Shirley Manson, lead singer of rock band Garbage, blasted Kanye in an open letter for his actions, telling the rapper to "grow up" because "disrespecting artistry" is making him look like a "complete twat."
(Truuuueeee… in my 2 Chainz voice.)
John Legend even spoke out against Kanye's statements, agreeing that Beck is "super talented" and won the award "fair and square."
Kanye tried to clean it up the next day by stating he loves Beck and that he was referring to The Grammys when he said "he needs to respect artistry."
Ye's rant during his interview after The Grammys proves otherwise, but OK.
The bigger issue here is the fact that yes, The Grammys are full of shit and this has been proven time and time again by artists and fans. But instead of protesting the awards show or naming them as the culprit for all of this mess, Kayne continues to shit on other artists and takes away from their talents and hard work.
It seems the only time Kanye stands for whats right in the entertainment industry is when his close friends (like Beyonce) are involved; which at the end of the day, just makes him annoying and a hypocrite.