Forbes' top Five in Hip Hop!
So as usual, Forbes is counting everybody's money and writing articles about it.
Their latest story to hit the news is: The Forbes Five: Hip Hop's Wealthiest Artist 2013.
Which means, if you can't do the math, the majority of your faves didn't make the list.
The ones who did are as follows:

Diddy: The Bad Boy came in first with an estimated net worth of $580 million; although the majority of the money comes from non-music related business ventures (pfft, yeah we know).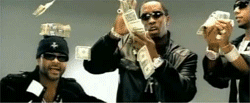 Jay Z: Roc Nation's leader came in second place with a net worth of $475 million.
Dr. Dre: This man barely active in the music scene compared to his peers, yet he still manages to shit on them! Dre came in the third with $350 million "thanks mostly to his Beats by Dr. Dre headphones."
Birdman: The Cash Money founder came in fourth place with an estimated $150 million net worth. Makes sense considering the line up he has working under him: Drake, Nicki, Wayne, Tyga, and the others who never get to see the light of day.
50 Cent: Somehow, without really doing much, Fiddy still managed to shit on a lot of rappers who have been more active (and dropping more hits) than him. He came in fifth place with $125 million. However, a good bit of that money is still coming from his deal back in 2007 to Coca-Cola. The fact that he still spending money from 2007 is just…smh. Rich bastard!