Billboard makes "10 Greatest Rappers of All Time" List, but leave out Tupac!
So Billboard Magazine created a "10 Greatest Rappers of All Time" list, including great MC legends like Rakim, Biggie, and Nas, but there's a major issue with the line up…
1. The Notorious BIG
2. Jay Z
3. Eminem
4. Rakim
5. Nas
6. Andre 3000
7. Lauryn Hill
8. Ghostface Killah
9. Kendrick Lamar
10. Lil Wayne
…No Tupac Shakur.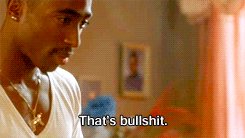 Can't really call this list legit if they're going to leave out Pac. Billboard stated that the list was based on rappers skills as MC's, not artists, therefore rappers like Tupac were omitted because he's "arguably known more for his great songwriting than dominant bars."
Um okay.