Azealia Banks goes Illuminati for new music video "YUNG RAPUNXEL"!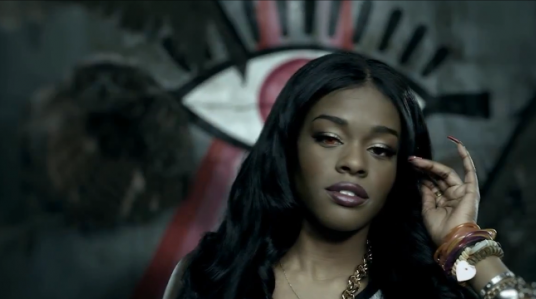 Banks just loves to stir up shit doesn't she?
She's still going at it with the feuds on Twitter (Rita Ora, A$AP Rocky), and now all the delusional anti-Illuminati Internet Evangelist are going to be in a typing frenzy when they get a load of her new music video, Yung Rapunxel.


Well, you have to hand to Banks… she knows how to get people's attention.
She keeps the 90's theme alive in her wardrobe for the video (complete with halter top, baggy pants, goggle sunglasses and long ass fingernails).
The rest of video cuts back and forth between Banks rioting against police officers with glass bottles and some weird-Illuminati Twilight Zone dimension where owls fly out of Banks' forehead and she rides a metal bull.
#Trustorytho
I'm assuming all the obnoxious, overuse of symbolism in Yung Rapunxel was done on purpose to upset all the anti-Illuminati warriors online. They've been analyzing every video from rap to kpop, screaming Illuminati at the top of their lungs.
How they know all of this information regarding a "secret society" or where they get the info is beyond me. You would think that most secret society EVER would be a little more inconspicuous about their shit, but apparently as long as you're crazy, impressionable and have a lot of time on your hands, their hidden messages can be easily spotted in pop music videos.
Or other places…
Bottom line, I could've done without the crazy ass video. The song was already weird enough to begin with, but I guess Banks wanted the video to match the song.
Is Banks pushing boundaries and being original?
Yes, extremely so; more than most urban pop stars who are currently active.
But here's my main problem with the Harlem rapper (from a fan's point of view).
The girl is bad. I'm not saying she's the best, but she is good. Whether you agree or not is based off of preference, so shut the fuck up and keep it to yourself.
Azealia easily runs circles and snatches wigs with her wordplay in rap songs. She has a rapid fire flow that's rarely used by a lot of rappers these days and her style is basically trademarked at this point.
If you hear her voice, you know it's Banks…you know her style.
But she constantly keeps overshadowing her talent with controversy. If it isn't a Twitter feud with another rapper, she's calling out bloggers, DJ's or Haute Couture Fashion houses.
And now, her videos have become as ratchet and full of bullshit as her public feuds.
It makes it difficult for people to concentrate on why her fans fuck with her in the first place, she has talent…. she can actually rap.
I don't know if this song and video are a nod to her recent online arguments and media controversy, but I think we get enough of that already without her adding to the pot with shit like this.